/ People
«Biomaterials Science Center» situated at the University of Basel becomes 10 years old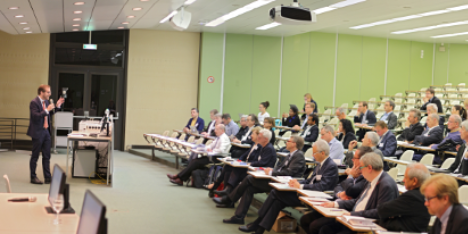 With a public symposium in honor of Thomas Straumann at the ZLF within the Faculty of Medicine, the 10th anniversary of the «Biomaterials Science Center» of the University of Basel was celebrated on Thursday, 17 May, 2017. The Center conducts interdisciplinary research for the benefit of the patient.
Whether artificial hip joints, synthetic vessels, bone substitutes or dental implants - biomaterials made of metal, ceramics, polymers and other materials have long been an everyday life in medicine and improve the quality of life of numerous patients. With the "Biomaterials Science Center" (BMC) of the University of Basel created in 2007 an important interface between materials science and medicine matured during the last decade.
Recently, interdisciplinary research in the field of artificial muscles has sparked international interest. The research approach is based on electroactive polymers, which deform with the application of a voltage. As multi-layered sandwich structures, they can convert electrical energy into mechanical work similar to the human muscles, can serve as a pressure sensor at the same time, and in the future may even gain electrical energy from body movements.
The tenth anniversary of the BMC was officially celebrated with a public symposium in honor of the Straumann Foundation on Thursday, 17 May, 2017. With contributions from international experts, it offered an overview of the broad spectrum and the great potential of material science in medicine, which has developed rapidly within only the last years. Pictures as well as information about this event can be found on the homepage of the BMC website https://www.bmc.unibas.ch/news/news.phtml 
The BMC is managed by Prof. Dr. Bert Müller. Since September 1, 2006, he is the owner of the Thomas-Straumann-Professorship for Material Science in Medicine. This extraordinary professorship was made possible due to the donation of the Basel-based entrepreneur Dr. Thomas Straumann. In the eleventh year of the BMC, Prof. Müller became an integral part of the Department of Biomedical Engineering as a structural professor.