EAP in action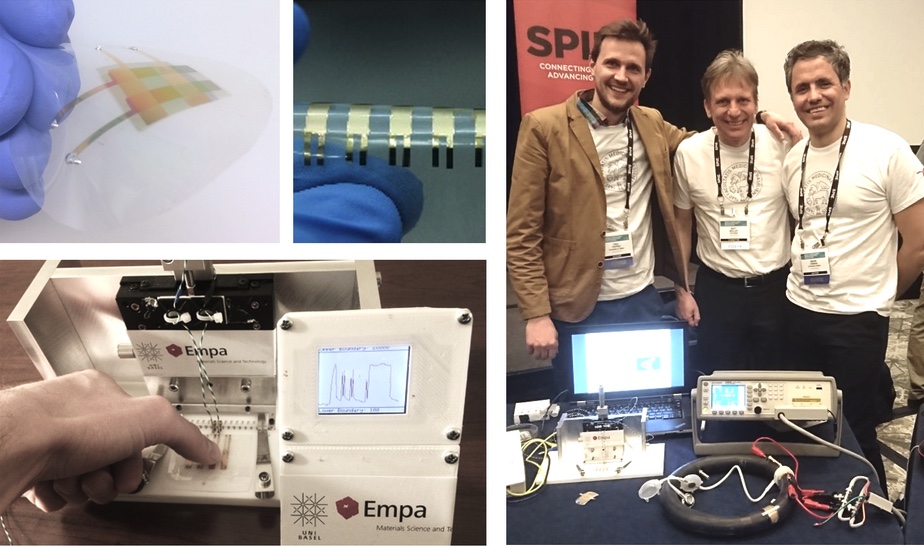 Enhancing the capabilities of artificial muscle implants
Left: The dielectric elastomer sensor prototype on flexible substrates. Right: The team from the Biomaterials Science Center, Department of Biomedical Engineering at the University of Basel T. Töpper, B. Müller and B. Osmani.
Enhancing the capabilities of artificial muscle implants using low-voltage dielectric elastomer sensors
The BRIDGE Proof-of-Concept project led by Dr. Tino Töpper aims for dielectric elastomer sensors (DES) operated at battery voltages. Recently, the first sensor prototype has been presented at the SPIE-Smart Materials within the EAP-in-Action session. The capacitive sensor is based on a polydimethylsiloxane (PDMS) elastomer layer covered by flexible electrodes. The high-vacuum-based thin-film technology reliably enables the fabrication of sub-micrometer-thin elastomer and nanometer-thin conducting films. Compression is resolved with a sensitivity better than 4 kPa-1, which can be adjusted to the physiological pressures of interest, i.e. from Pa to MPa. The resting capacitance of hundreds of pF/cm2 only requires conventional electronics. The total DES thickness of maximal 20 µm opens the path for a wide variety of applications in medical implants and devices. An energy consumption below 1 nW and the self-healing capabilities enable long-term stability and reliability.
Fabricated on flexible polymer substrates the DES can be directly attached to the skin or implant surface for monitoring with millisecond response. In particular, the team is going to integrate the DES to an artificial muscle implant for incontinence treatments, which is under development at the Wayne State University in Detroit, Michigan. The leading medical expert Nivedita Dhar envisions a reliable force feedback for a substantially improved and biomimetic urinary incontinence treatment.
We gratefully acknowledge the mechanics workshop at the physics department, led by Sascha Martin, for their support and expertise on the fabrication process. Furthermore, thanks to our partners at the EMPA Dübendorf, Transport at Nanoscale Interfaces to equip the DES-prototype with electronics, constructed by Dominik Bachmann. Finally, we thank Matej Siketanc and Sebastian Buchmann from the Nanoscience Institute, University of Basel for their dedicated laboratory work on the prototype fabrication framed within their project thesis. 
see also Video: DE-Sensor Prototype I