Volunteers Needed for a Scientific Study About Acoustic Emissions of Bruxism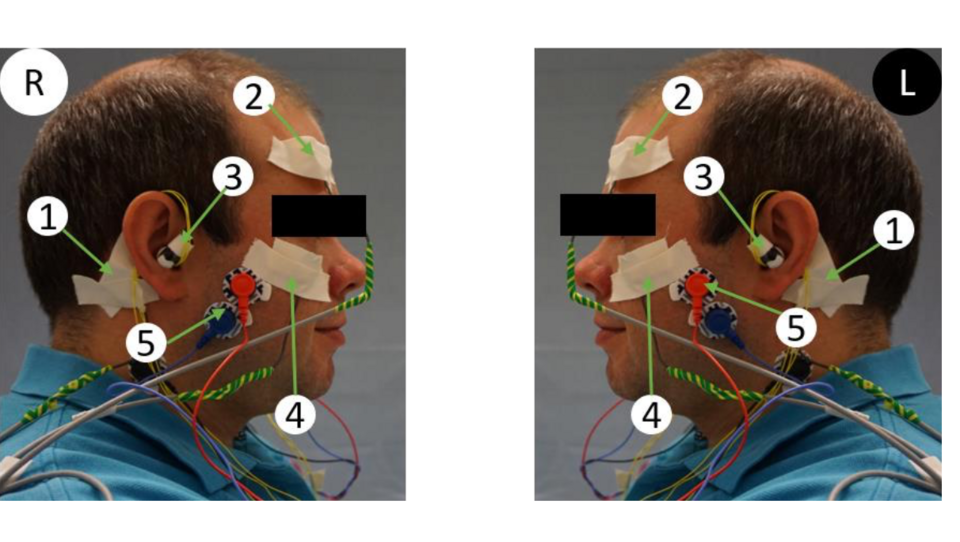 For a scientific study we are looking for healthy, normal weight women and men aged 18 to 50 with good English skills or German. The experiment will take around 120 minutes from your time. In total 50 participants will be recruited for this study. The aim of the study is to investigate how bruxism-induced sounds propagate across head. Bruxism is characterized by the repetitive grinding of the teeth or clenching the jaw that can happen during awake or sleep.
Procedure and duration of the study: During this study, several sensors will be attached to your head (Figure 1); microphones to record sounds and electromyographic (EMG) sensors attached to your cheeks to monitor muscle activity. You will be asked to grind your teeth, clench your jaw, read, eat and drink. This experiment takes approximately 2 hours (Figure 2) at the Department of Biomedical Engineering, Allschwil.
All data will be treated confidentially. There is no medical benefit for the subjects.
If you are interested in participating in a study and you meet the above criteria, please contact Mr. Mohammad Khair Nahhas: BIROMED-Lab, Department of Biomedical Engineering, University of Basel, Gewerbestrasse 12, 4123 Allschwil, mohammadkhair.nahhas@clutterunibas.ch or phone: +41 61 207 54 73.
Please note that your data will be recorded if a telephone contact with Mohammad Khair Nahhas is established. If you are not interested in participating in the study, your data will be deleted immediately.