2022 SPIE Biophotonics Technology Innovator Award for Bert Müller!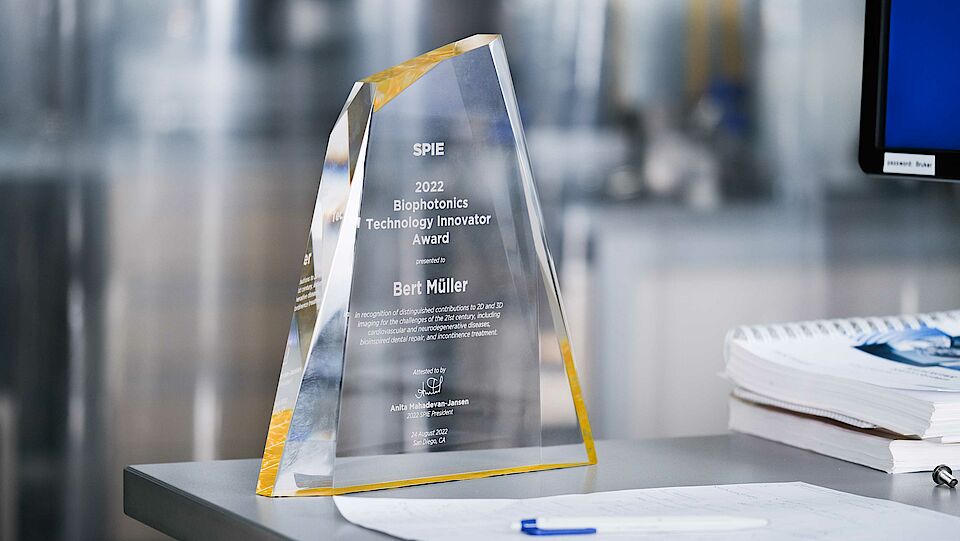 Prof. Dr. Bert Müller from BMC has received the SPIE Biophotonics Technology Innovator Award. It recognizes extraordinary achievements in biophotonics technology development that show strong promise or potential impact in biology, medicine, and biomedical optics.
"Bert's research is truly interdisciplinary, bringing physics to biology in a thoughtful and creative manner," notes UCLA School of Dentistry Professor Shane N. White. "He has also been extremely productive, publishing over 350 papers and mentoring many doctoral students, but these elements are overshadowed by the original, unique, and profound insights provided by his work. Being a dentist who studies genetic-structural relationships in tooth enamel, I found that Bert's contributions to the understanding of enamel nanostructure provided breathtaking insights to a notoriously complex and difficult material. He's provided similar insights into tooth dentin, and his work on dental decay is groundbreaking, showing that even in a lesion that crosses enamel and extents into dentin, the normal anisotropic scaffold is still present. This finding suggests the extremely exciting potential to recreate the original nanostructure: In theory, small and moderate lesions could be made as good as new, an idea that used to be unimaginable. I'm grateful that Bert has applied his nanomaterials characterization skills to a wide range of biological tissues, addressing a variety of very difficult clinical problems. His interdisciplinary approach to medical challenges with a focus on materials and physics is transformative."
SPIE is the international society for optics and photonics. It was founded in 1955 to advance light-based technologies. Serving more than 255,000 constituents from 183 countries, the not-for-profit society advances emerging technologies through interdisciplinary information exchange, continuing education, publications, patent precedent, and career and professional growth.
More: