Acoustic and Vestibular Research Group
Located in the human ear are two wonderful sensory systems: hearing and balance. They sense not only tiny vibrations of atomic sizes as heard tones but also the finest head accelerations are perceived by the vestibular system to keep our balance stable. Malfunctions of either of these sensory organs often results in social deprivation and are known as one of the most important risk factors for dementia. People with these malfunctions often isolate themselves because of the inability to participate in oral communication and suffer from a loss of balance control. Diseases of both sensory organs and their artificial restoration are the subject of the research of the Acoustic and Vestibular Research Group.
Consistent with the pathophysiology of the ear, the group consists of two sub-groups: Researchers led by Christof Stieger investigate acoustic peripheral pathways and clinical outcome of natural and artificially produced sound in the cochlea. Better understanding of these pathways improves efficient hearing implant development. Researchers around Flurin Honegger, Heiko Rust and John Allum are developing methods to measure malfunctioning vestibulo-occular and vestibulo-spinal reflexes underlying poor balance control, and track their central compensation. Additionally, training with sensory substitution devices is being used as one method to improve balance control. Exact measurement of responses of both sensory systems is needed to better understand and assess the impact of regressive disorders on daily living and to control the therapeutical measures needed to support the recover processes from both types of human ear disorders.
The acoustics sub-group was founded in 2013, is located at the Siebenmann Laboratory of the University Hospital of Basel, and bridges the gap between technical devices and its clinical application in cooperation with Harvard Medical School, Medizinische Hochschule Hanover, Department of Mathematics of the University of Basel and Hearing Implant Industry. The vestibular sub-group is located at the Lab for Otoneurology at the University Hospital of Basel. Much of its work on normal balance control is done in cooperation with the School of Kinesiology, University of British Columbia, Vancouver, Canada.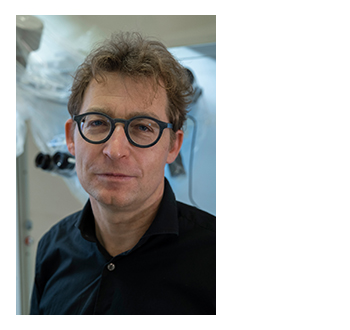 PD Dr Christof Stieger
Head of Acoustic and Vestibular Research Group
Petersgraben 4
CH-4031 Basel