Resume
Philippe Valmaggia studied Medicine in Basel, Paris and Oxford and obtained his Swiss medical diploma in 2020. In parallel, he followed the MSc programme in Biomedical Engineering at the University of Basel and also graduated in 2020. His master's thesis focused on a Deep Learning based segmentation of eye tumours.
During his studies, Philippe gained work experience as an intern in basic neuroscience research at the Department of Biomedicine in Basel, as a data processor for a clinical trial in Senegal and as a healthcare assistant at various University hospitals. He is interested in all aspects of translational medicine, literally from bench to bedside.
In 2021, he started his PhD project in which he investigates novel biomarkers in Optical Coherence Tomography data to classify different patient groups. This interdisciplinary research takes place at CIAN at the Department of Biomedical Engineering (DBE) and the Ophthalmic Imaging Group of the Institute of molecular and clinical Ophthalmology Basel (IOB). His project is funded by the Swiss National Science Foundation within the National MD-PhD Program.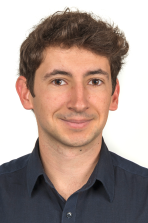 Bourqui, A., Niang, E. H. A. B., Graz, B., Diop, E. H. A., Dahaba, M., Thiaw, I., Soumare, K., Valmaggia, P., Nogueira, R. C., Cavin, A. L., Al-Anbaki, M., & Seck, S. M. (2020). Hypertension treatment with Combretum micranthum or Hibiscus sabdariffa, as decoction or tablet: a randomized clinical trial. Journal of Human Hypertension, September 2020. >read