Ultra-High and Low Field MRI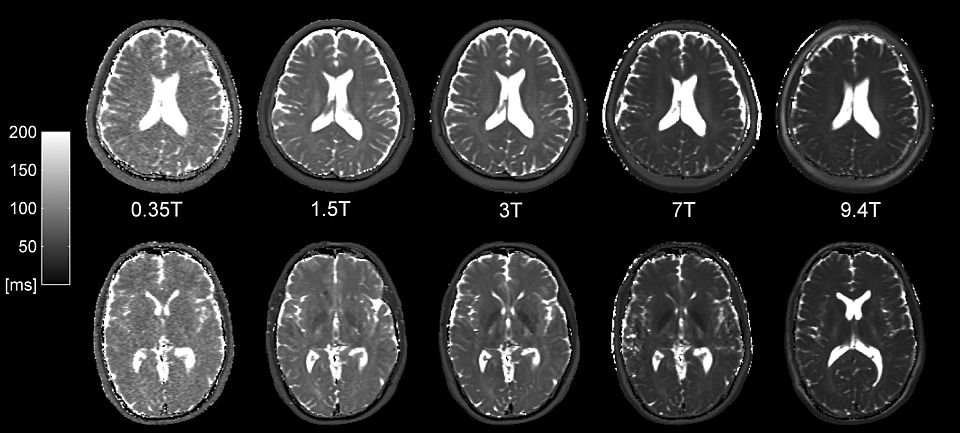 UHF
Although we do not have our own ultra-high-field (UHF) system, we have contributed to the development of UHF imaging methods through long-standing international cooperation. Back in 2007, we started working in cooperation with the Erwin L. Hahn Institute on one of the world's first human whole body 7T systems. Over the years we have developed and provided a bunch of UHF methods that have found their application, especially for musculoskeletal imaging.
Low-Field
The excellent soft tissue contrast and the promise of resolving tissue structure with MRI with unprecedented resolution have pushed the development of systems with dizzying main magnetic field strength. In contrast, low-field systems suffer from a limited signal-to-noise ratio but are much more cost-effective and may offer a much better return of investment, provided that diagnostic specificity can be reached in a reasonable time. Thus, the low-field framework requires much more carefully designed, optimized, and cutting-edge methods to squeeze out the last quantum of signal to achieve this ambitious goal.
We have access to a commercial low-cost 0.55T system (Siemens Magnetom Free.Max) and design dedicated low-field MRI sequences for translation to the clinical setting.
Project leader and contact
Collaborators
Dr. Michael Bach - Radiology, Universitätsspital Basel
Esther Steijvers - Scannexus, Maastricht, The Netherlands
Prof. Dr. Siegfried Trattnig - Medizinische Universität Wien, Austria
Dr Vladimir Juras - Medizinische Universität Wien, Austria
Prof. Dr. Klaus Scheffler - Max Planck Institute Tübingen, Germany