Segmentation of the Gray and White Matter in the Human Spinal Cord
Neurological diseases like Multiple Sclerosis have an impact on the spinal cord. In this project, we study the effect of the disease on the different compartments of the spinal cord: gray matter and its surrounding white matter (GM/WM). To isolate these compartments, we segment magnetic resonance images of the spinal cord. Manual segmentation of such images is tedious and suffers from high intra- and interrater variability. We, therefore, aim at implementing deterministic and automatic segmentation algorithms to robustly and accurately mimic the manual segmentation process. We collaborate with the Division of Radiological Physics of the University Hospital Basel for developing image acquisition techniques that produce sharp images with high contrast between GM and WM, suitable for this segmentation task. Our developed segmentation algorithms we then use in collaboration with the Neurological Clinic and Polyclinic of the University Hospital Basel to calculate longitudinal atrophy rates of Multiple Sclerosis patients.
Project leader: Antal Horvath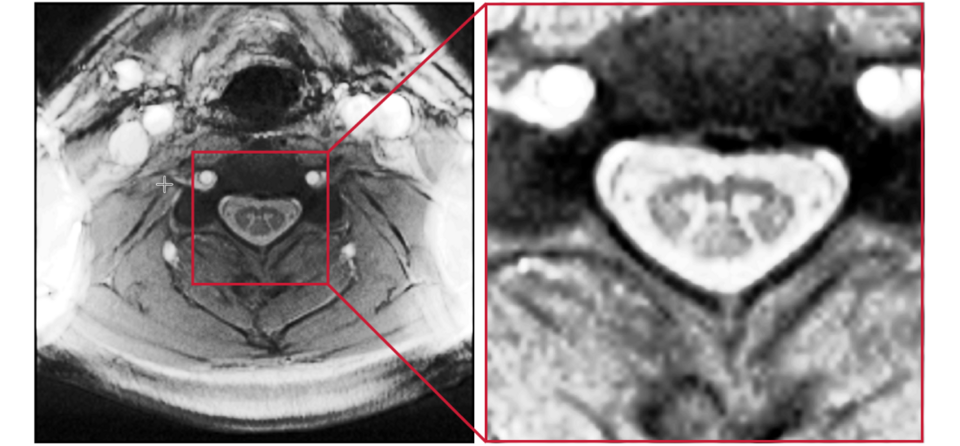 Axial MR image of the neck at C3 level acquired with the AMIRA sequence. On the right, we see a zoomed-in view on the spinal cord. The bright structures are the cervical arteries, the spinal fluid and the spinal cord gray matter.