Bio-Inspired Actuation for Robotic Endoscopes
Endoscopes are medical devices that surgeons use to get a view of the inside of a patient. In contrast to open surgeries, endoscopic interventions require smaller incisions and reduce the trauma on the tissue. Patients undergoing endoscopic surgery profit from less blood loss and they can leave the hospital sooner after a surgery.
Despite all the benefits of endoscopic surgery for the patient, surgeons have a hard time manipulating the endoscopes. They have to concentrate on the advancement and the rotation of the endoscope through a small opening in the skin, while the actual task is to inspect the surgical site, take biopsies, or resect pathological tissue. Robotic endoscopes with some level of autonomy are a promising solution to simplify endoscope manipulation. While the robot performs endoscope steering, the surgeon could focus more on the tasks that cannot be automated.
But how do we ensure that those automated robot movements are performed in a safe way? Instead of relying only on software control, we're also designing the mechanics of the robotic endoscope to be inherently safe. In contrast to traditional robots, which are designed to be as stiff as possible, our patented approach is to integrate elastic elements in the robotic endoscope structure - to be exact, in the transmission between motor and the moving endoscope tip. A glimpse to nature shows that this combination of motors, rigid links, and elastic connections has proven effective for systems that are in physical contact with the environment: Musculoskeletal systems, for example human fingers, are essentially rigid links (bones) that are actuated by motors (muscles) via elastic elements (tendons).
The elastic elements reduce contact forces between the moving part and the environment, which means that in case of unintended collisions, the robotic endoscope would not damage the tissue.
Furthermore, the deflection of the elastic elements can be measured to get an estimate of the forces applied to the endoscope tip. This force information can be forwarded to the surgeon as "haptic feedback" - to not only see, but feel interactions with the tissue. For more autonomous tasks, the force estimate can be used as sensor feedback to actively control and/or limit the contact forces of the endoscope tip with the tissue.

Project leader: Lorin Fasel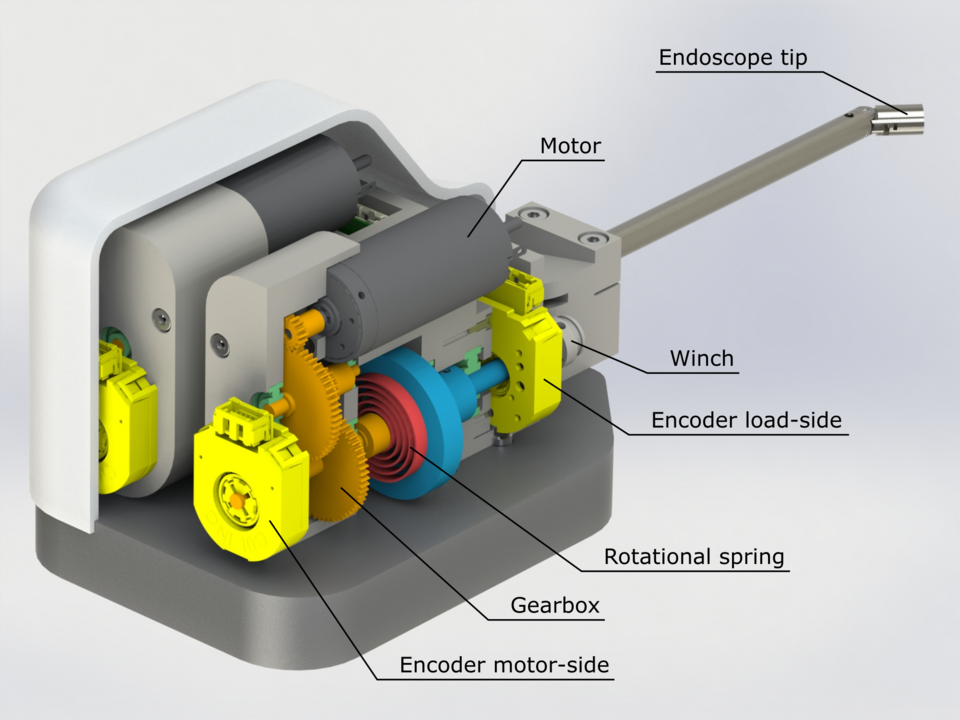 Our approach to safer robotic endoscope actuation is based on the principle of series elastic actuation. Instead of connecting the movable part (endoscope tip) with the motor as rigidly as possible, we include an elastic element (rotational spring) in the transmission. This reduces impact forces and measuring the deflection of the spring (encoders on either side of the spring) allows to estimate the force applied at the endoscope tip.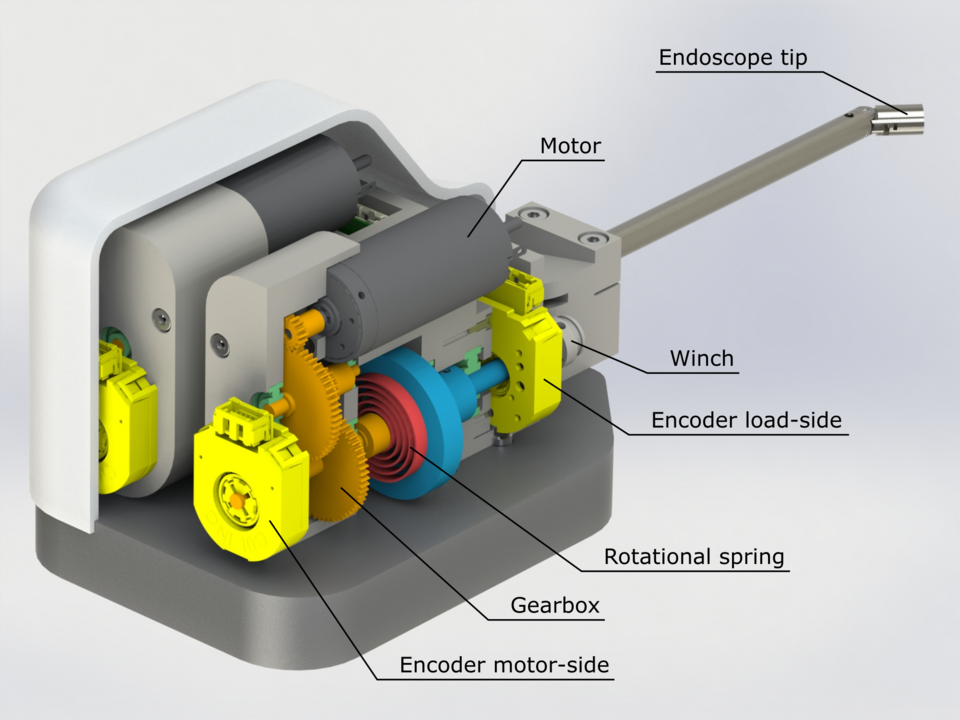 The springs reduce impact forces and therefore alleviate the risk for tissue damage during surgery. Furthermore, the deflection of the springs can be measured to get an estimate on the forces applied at the endoscope tip.
The tip force measurements can be used as sensor feedback to implement different behaviors of the tip when in contact with its environment. For example, it can act like a spring when palpating tissue, or it can be controlled to avoid any contact forces when navigating around sensitive anatomical structures. More information on these different control modes can be found in the following publication: https://doi.org/10.1007/s42235-022-00180-6
Automatic control, such as vision-based steering, can be performed in a safer way by combining it with our actuation approach, which allows to limit the torque applied to the endoscope joint. The full video and paper describing our approach can be found here: https://doi.org/10.1109/ISMR48346.2021.9661497